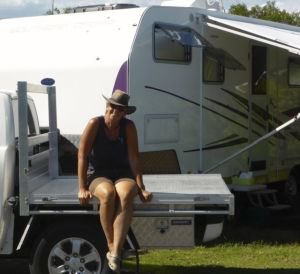 Are you, like me, travelling this big, beautiful country in a caravan or camper?
Are you here, on my website, because you are HERE – in the same caravan park right now?
If so, come on over and say hi. You can pick up a bookmark, or get me to sign your book. I'm the white (with purple decal) Southern Cross fifth wheeler with the one-eyed dog!
My books are available in all books retail outlets and as ebooks for your reader. See My Book Room for details and buy links.
If you'd like a signed copy I do have books on board. Come on over…
House for all Seasons $20 (paperback)
Simmering Season $20 (paperback)
Season of Shadow and Light $20 (paperback)
The Other Side of the Season (new release size) $30
This slideshow requires JavaScript.
Jenn J
Happy travels.