No stranger to embracing a second chance or trying something different, I took my first tentative steps towards a tree change in 2004, escaping Sydney's corporate chaos to buy a small cafe in the seaside town of Sawtell.
Moving to the country was like coming home.
After ten years running a B&B on my NSW property I now write contemporary Australian fiction – life-affirming novels of small town life and the country roots that run deep. And I'm doing it grey nomad style – a wandering writer of no fixed address. Yep! I've hit the road in a Ford and a fifth wheeler. (Check out my blog post on that.)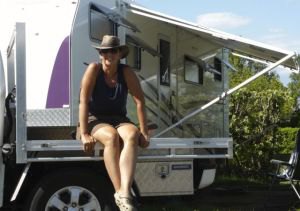 With readers and reviewers alike having enthusiastically received all four novels, my debut, House for all Seasons, was #5 Top Selling Debut Novel (2013). My other titles include: Simmering Season, Season of Shadow and Light, The Other Side of the
Season.
Small town stories from the country to the coast.
 (see The Book Room for book details, read more about Jenn, and find author and book images below)
Not enough? Here is much longer bio!
Media and Publicity Enquiries
I am represented by Clare Forster. Contact Curtis Brown | Australia
Author Photos
Additional high and low res images available on request by emailing me: jenn (at) jennjmcleod (dot) com
(Author Photos by the wonderful Marie Miller. Thank you, Marie.)
Book covers