EVERY BOOK IS A JOURNEY…
In

PRINT

from all good book stores. If not on the shelf, ask the bookshop to order.
As

e-BOOK

s. See BUY links under each title below.

SIGNED COPIES:

If you would prefer a signed copy, I can send direct. See my Book Shop.
My 2018 novel (P

re-orders open: see your favourite e-tailer.)
A portrait . . . 
An obsession . . .
A curious daughter . . .
An affair to remember and A Place to Remember.
A man loses five years of his life. Two women are desperate for him to remember.
Running away for the second time in her life, twenty-seven-year-old Ava believes the cook's job at a country B&B is perfect until she meets the owner's son, John Tate. At twenty, the fifth generation grazier is a beguiling blend of both man, boy and a terrible flirt. With their connection immediate and intense, they begin a clandestine affair right under the noses of John's formidable parents.
Thirty years later, Ava returns to Candlebark Creek with her daughter, Nina, who is determined to meet her mother's lost love for herself. While struggling to find her own place in the world, Nina discovers an urban myth about a love-struck man, a forgotten engagement ring, and a dinner reservation back in the eighties. Now she must decide if revealing the truth will hurt more than it heals.
Come home to the country, to Candlebark Creek, and to the Ivy-May Homestead—a fifth generation Queensland cattle station hiding three decades of secrets and lies.
Buy Amazon
, Buy Kobo
 Buy iTunes, Buy Booktopia, Buy GooglePlay
Buy The Book Depository (free worldwide delivery)
Play Jenn's 20 Second introduction to  A Place to Remember
Welcome to my backlist!
Like me, do you love small town life?
Maybe you dream of one day leaving the city behind. Or are you small town at heart and wondering about going home to the country? Both scenarios sum up the characters in my Seasons Collection of stories. They go back, but not without life throwing a few curve balls: a family secret, country roots that run deep, a school reunion (complete with a town bad boy and old flame), and estranged friends returning to their childhood home.
A past can't be undone, but a heart can mend. Sometimes all it takes is a little escape to the country.
The Season Collection is four standalone stories. But if you want to start at the beginning, House for all Seasons was #5 best-selling debut fiction novel in 2013. That is one heck of a recommendation!! Thank you, lovely readers and welcome to my little corner of the country and The Seasons Collection:
The Other Side of the Season
Everything has a reflection…
When offering to drive her brother to Byron Bay to escape the bitter Blue Mountain's winter, Sidney neglects to mention her planned detour to the small seaside town of Watercolour Cove.
Thirty-five years earlier, Watercolour Cove is a very different place. Two brothers are working the steep, snake-infested slopes of a Coffs Coast banana plantation. Seventeen-year-old David does his share, but the budding artist spends too much time daydreaming about becoming the next Pro Hart and skiving off with the teasing and tantalisingly pretty Tilly from the neighbouring property. His older brother, Matthew, has no time for such infatuations. His future is on the land and he plans to take over the Greenhill plantation from his father.
Life is simple on top of the mountain for David, Matthew and Tilly until the winter of 1979 when tragedy strikes, starting a chain reaction that will ruin lives for years to come. Those who can, escape the Greenhill plantation. One stays—trapped on the mountain and haunted by memories and lost dreams. That is until the arrival of a curious young woman, named Sidney, whose love of family shows everyone the truth can heal, what's wrong can be righted, the lost can be found…
. . . and there's another side to every story.
What readers and reviewers are saying…
"McLeod delivers a story packed with pathos, Aussie wit and a great sense of place… an irresistible tale." Read in full at Rowena Holloway.com
"Stunning writing, spellbinding storytelling, art in all its glory and the message that it's never too
late to make things right." Bookgirl, Beauty & Lace
Play the 40 Second Story Trailer for The Other Side of the Season
Season of Shadow and Light ~

(two 

different covers, same beautiful story)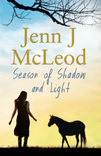 Sometime this season…
The secret keeper must tell.
The betrayed must trust.
The hurt must heal.
When it seems everything Paige trusts is beginning to betray her, she leaves her husband at home and sets off on a road trip with six-year-old Matilda, and Nana Alice in tow.
But stranded amid rising floodwaters, on a detour to the tiny town of Coolabah Tree Gully, Paige discovers the greatest betrayal of all happened there twenty years earlier.
Someone knows that truth can wash away the darkest shadows, but…
Are some secrets best kept for the sake of others?
What readers and reviewers are saying…
"Season Of Shadow and Light is an amazing story, weaving an intriguing web of family, love, and community. It's about the lies we tell and the secrets we keep to protect those we hold dear and what it feels like to finally find a place to call home. Without a doubt, her best novel yet." www.1girl2manybooks.wordpress.com
"Jenn J McLeod delivers her best yet – a winning story of self-discovery, acceptance, renewal and coming home, in a distinctively Australian setting." www.writenotereviews.com 
Play the 40 Second Story Trailer for Season of Shadow and Light
Simmering Season
When a school reunion brings home


more than memories…
It's summer storm season and Calingarry Crossing is sweltering.
A devoted mother, sole breadwinner, and now local publican, Maggie Lindeman is back in Calingarry Crossing with her teenage son to sell the family pub, hoping to turn their lives and finances around. The trouble is, the girl people once called Magpie is so busy protecting everyone else she has no idea the perfect storm is heading her way until her past and present collide with the unexpected to blow the lid off a lifetime of secrets.
Maggie once had a crush on Dan Ireland, now a work-weary police crash investigator, still hell-bent on punishing himself for his misspent youth. Dan has ample reason for not going home to Calingarry Crossing for the school reunion, but one very good reason why he should.
Maggie is dealing with a restless seventeen-year-old son, a father with dementia, a fame-obsessed musician husband, a dwindling bank account and a country pub that just won't sell. The last thing she needs is a surprise houseguest for the summer. Fiona Bailey-Blair, daughter of an old friend and spoilt with everything but the truth, whips a maelstrom of gossip when she blows into town.
This storm season, when a school reunion brings home more than memories, Maggie Lindeman will discover …
… there's no keeping a lid on some secrets.
What readers and reviewers are saying…
"Simmering Season showcases McLeod's ability to portray life in all its facets. In its laid-back Aussie way, this novel reaches out and grips your heart. Simmering Season is not a race to an intense climax. It is a wonderful exploration of letting go, of life, and of the decisions made along the way." Rowena Holloway,
"Jenn J McLeod has written a big book with a big cast of characters and a heap of secrets. At 460 pages, it is proof of her writer's talent and publisher's faith in this series of Australian country-set stories. The author knows her setting well, so that it becomes a living character in its own right." Margaret Sutherland, Author, Amazon
"The fact that this novel has the same strength and depth of quality as 'House for all Seasons' shows that she is going to be a steady and consistent talent in Australian fiction." Book Muster Down Under, Amazon
Play the 30 Second Story Trailer for Simmering Season
House for all Seasons – 2013's 

#5 Top-selling debut novel
Four women.
Four lives unravelled.
The truth will bind them forever.
Bequeathed a century-old house, four estranged friends return to their hometown, Calingarry Crossing, where each must stay for a season at the Dandelion House to fulfill the wishes of their benefactor, Gypsy.
But coming home to the country stirs shameful memories of the past, including the tragic end-of-school muck up day accident twenty years earlier.
Sara, a breast cancer survivor afraid to fall in love;
Poppy, a tough, ambitious journo still craving her father's approval;
Amber, a spoilt socialite addicted to painkillers and cosmetic procedures;
Caitlin, a doctor frustrated by a controlling family and her flat-lining life.
At the Dandelion House, the women will discover something about themselves and a secret that ties all four to each other and to the house – forever.
Small towns can keep big secrets…