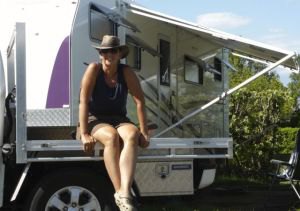 LOOK at the authors and book lovers letting me park my mobile home on their lawn, drive, chrysanthemums, etc…
In my trusty fifth-wheeler caravan (I've named Barcoola) I'll be dropping in (both literally and fictionally!) for a chat with a few of your favourite authors, as well as some new Australian voices, and chatting to book lovers, like you.
(And if you want MORE authors, check out my 2013 Author Harvest and 2014 Author Bar Yarns & Beer Nut blog.)
New South Wales (my home state)
Author – Maggie Joel
Author – Lisa Heidke
Author – Georgia Madden
Author – Deborah O'Brien
Author – Chris Taylor
Author – Annie Seaton
Author – Kim Kelly
Author – Kayte Nunn
Queensland (Perfect one day… yeah! yeah! rub it in!)
Author – Kylie Kaden
Author – Charlotte Nash
Author – Rebecca Jessen
Author – Rachel Amphlett
Author – Helene Young
Western Australia (Big, bigger, biggest)
Author – Lily Malone
Author – Tess Woods
Author – Rachael Johns
Author – Jennie Jones
South Australia (Wine, ranges and my relatives!)
Author – Meredith Appleyard –  fellow dog lover and awesome debut author
Victoria (Ocean roads and seas of green)
Author – Sandi Wallace
Author – Anne Gracie
Author – Lisa Ireland
Author – Georgina Penney (She's Flying in and Flying out again!!)
Author – Honey Brown (book review – Six Degrees)
Author – Alli Sinclair
Author – Aoife Clifford
Tasmania (You little devils)
Author (& McLeod's Daughters Producer) – Posie Graeme-Evans
ACT (Roundabouts, regulators and ripping-good readers!)
Do YOU know any ACT authors who might like to join the harvest?
Northern Territory (Rocks, Crocs, and Kakadu)
Author – Annie Seaton (Okay, so she's from NSW but… Kakadu Sunset is ALL The Territory.)
Do YOU know any NT authors who might like to join the harvest?
Join me #WriteRoundOz as I harvest a new crop of Oz authors (and make my way around this great country.)