Hello readers,
You can use these book club discussion points to explore the various themes throughout my stories. Of course, I wish I could have been there with you. If you have a burning question you'd like me to answer, or if you'd like to share anything from your book club discussion with me, I love receiving emails and feedback. Connect with me on Facebook—JennJMcLeod.books, Twitter @jennjmcleod or send an email.
Be aware… While I have tried to be careful, some of these discussion questions may contain spoilers. Continue at your own peril!!!
A PLACE TO REMEMBER
A  multi-generational romantic saga involving a dual timeline, lost love, heartache and second chances. In a vivid central Queensland setting, complete with a beautiful old homestead, we meet Ava, a strong, goal driven protagonist, and a cast of characters we can like and loathe.
Ava Marchette is a woman with failing health who persuades a reclusive artist to paint her portrait in the hope he remembers their affair from thirty years ago. Desperate to dissuade the woman, John describes the portrait process as arduous, and the relationship between an artist and sitter a complex one. Would you sit for a portrait? How did John's concerns influence that decision?
John Tate loves two things – Ava and his life on the land – until tragedy strikes and he wakes up with Acquired Savant Syndrome. (This medical term describes the result of injury to the brain, after which dormant savant skills/abilities emerge, sometimes at a prodigious level.) John wakes with an obsession to paint (and he's good at it). If you were suddenly a genius at something, what would you choose? (Music? Art? Maths? Languages? Scones? Scrabble?!)
While Marjorie is your typical antagonist – creating obstacles and basically being a cow – the author adds subtle hints about the woman's tragic past and early married life. How did learning about Marjorie's struggles change your opinion of her?
A number of characters in this story are portrayed as 'tortured' by their past and/or their circumstances. Who do you see as the most tortured character in this story and why?
We asked Jenn Question 4. and she felt Katie ended up being the most tortured character in the story. What did you think of Katie? What made you feel sorry for? What made you angry at her? At what point(s) in the story did your opinion of Katie change?
Once Nina discovers the truth behind the Peppi's Panna Cotta and Pearl Ring Myth she has to decide who (and what) to tell. Are Nina's actions admirable or inappropriately interfering with her mother's life?
How did Ava's childhood experiences shape her and impact on the decisions she makes regarding her own life: marriage, motherhood, John?
Which character (John, Ava, Katie, Nina, or Blair) did you feel the most empathy for and why?
This novel has various THEMES: secrets and lies, destiny and fate, finding your place in the world; and to tell the story the author uses MOTIFS such as: art/portraits, a pearl ring, dragonflies, the stars and the moon, and food. How does the use of such literary devices contribute to the storytelling?
Themes of grief, betrayal and forgiveness are central to this novel. What lessons did you take out of this story, if any?
Was the ending satisfying? If not, as the author what would you have done differently?
THE OTHER SIDE OF THE SEASON

A dual-narrative story about love—first love, family love and enduring love—set among a fictional banana growing area on the NSW Mid North coast. If I had the pleasure of being at your book club meeting to talk about The Other Side of the Season, there are some questions I'd throw in to kick-start the discussion.
Firstly, let's get the Natalie issue out of the way, shall we? I suppose I expected the majority of readers to dislike her in the beginning. But did you grow to understand her? What was her worst flaw/mistake? At what point in the story did you start to care about her? Did she redeem herself in the end to make you feel sorry for her—even a teeny weeny bit?
Which character did you feel the most empathy for and why? Was it: Natalie, David, Sidney, Albie, or Matthew?
After the accident, David gets on with his life and stays on the mountain with his parents. When Tilly comes back he is immediately accepting and incredibly calm. (I deliberately avoided angry scenes, striving for a more grown-up and poignant response from them both, probably to reinforce that they had changed—they were no longer children.) What do you think influenced David to be so forgiving?
How did Sidney's relationship with her parents—especially her mother—shape her life?
Okay, about here I might ask what you thought about Damien, but I'm pretty sure I know the answer to that!
What are the predominant themes in this story and were they handled well/responsibly?
What lessons did you take out of this story, if any?
How did you feel about the ending? Shocked? Saddened? Angry? Satisfied? If not satisfied, how would you, as the reader, have changed things?
SEASON OF SHADOW AND LIGHT
Paige Turner's life is anything but a page-turner despite the facade of a happy marriage and a privileged life in the Sydney suburbs with her corporate husband and their treasured six-year-old daughter, Matilda. After the stillbirth of her son, post-partum stroke then robs the professional food reviewer of her sense of smell and taste. When it seems everything she trusts is beginning to betray her, Paige and Matilda, with Nana Alice in tow, take off on a road trip to the small Australian country town of Coolibah Tree Gully, only to discover the greatest betrayal of all happened there twenty years earlier.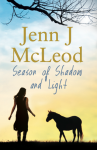 This novel started out as Paige's story. By the second draft, however, I realised Alice's was perhaps the greatest journey. Whose story do you feel is the predominant one and why?
Alice asks a question: Is she obligated to protect the deceptions of the dead when the truth might somehow help the living? Do you agree some secrets best buried? Discuss.
Alice also poses a question to her book club (about a real and much-loved novel). She asks: 'Would the book have been so readily embraced by readers with a different title?' How would your book club answer this?
How did Alice's relationship with her parents shape her life?
Which character did you feel most sorry for and why?
Alice has her reasons for keeping the secret. What are they and do you feel the reasons are strong enough to warrant the keeping of such a secret?
Did the ending satisfy you? If not, what would you, as the author, have done differently?
SIMMERING SEASON
Devoted mother, sole breadwinner, and now local publican, Maggie Lindeman is back in Calingarry Crossing with her teenage son to sell the family pub, hoping to turn their lives and finances around. The trouble is, the girl people once called Magpie is so busy protecting everyone else she has no idea the perfect storm is heading her way, until her past and present converge with the unexpected to blow the lid off a lifetime of secrets.
It's true to say, I make poor Maggie Lindeman deal with strong and wide-ranging themes touching on issues such as dementia, young driver deaths, drug use, domestic violence and suicide.
Themes of grief, betrayal and forgiveness are central to this story. So too is new beginnings. Did you find the author balanced out the happy and the sad?
How did the motif of a storm season brewing with secrets simmering for too long add to your enjoyment of the story?
How do you feel about school reunions? Do you agree with Maggie's assertion that they apply pressure to show off achievements?
The fictional iIcon reality TV concept has Brian addicted to the promise of fame and fortune. One notable case in the UK some years ago brought the psychological welfare of high-pressure talents show contestants to the fore. Discuss the possible harmful effects of reality TV (especially talent shows with judges who ridicule) on those more vulnerable members of society.
Fiona is resentful of her mother's stay at The Dandelion House and claims she (Fiona) does not need to experience some great epiphany like her mother to know who's important in her life. When in Calingarry Crossing, however, Fiona does experience change. What are the events responsible for her growth?
Did Fiona mean to betray Noah by divulging his secret to Maggie? What were the influencing factors?
Maggie cares and wants to support her son's choices, but she wonders how she can protect him from something that she doesn't fully understand herself. Discuss how you might approach this situation, or what advice you might give to a friend in Maggie's situation.
How has Fiona's past, and her relationship with Amber and Jack Bailey, shaped her life and relationships?
Brian's ranking on the character likeability scale is, well, not high! At what stage in the story (if any) did you feel empathy for the situation in which he found himself?
As a fictional crash investigator, Dan has strong views about the contributing factors behind crashes. Discuss each factor (vehicle, environment and human) and the sort of wrong choices we might make as a road user (car, pedestrian, rider) that might contribute to a crash.
Maggie's desire to protect Noah and the father/son relationship sees her indulging Brian. How do you feel about the way she continues to support Brian?
Which character do you think has grown the most by the end of the novel?
Did the ending satisfy you? If not, what would you, as the author, have done differently?
HOUSE FOR ALL SEASONS
House for all Seasons, tells the story of four estranged school friends summoned to return to the country town of their youth. Each must spend a season in the crumbling Dandelion house and there Sara, Poppy, Amber and Caitlin uncover the real story of the tragedy which haunts all their lives—and the ways in which they are forever linked. The novel is a potpourri of warmth, humour, sadness and survival—a deeply moving novel about learning to love yourself and how going home can be just the magic you need.
How has Amber's past and her relationship with her mother shaped her and her relationships?
Will's mother, Caroline, sees Sara as a threat. Can you relate to her anxiety? Is it justified?
Poppy's story has strong views of press/media ethics. Do you feel the author handled this subject responsibly/prudently/perceptively? Was it a balanced view?
Once Caitlin discovers the secret, she has to decide who and what to tell. Do you think she makes the right decision? What might you have done differently?
By the end of the novel, which character do you think has grown the most?
Each woman's growth is in a way 'guided' by a secondary (and influential) character (eg Sara & Elliot, Poppy & Eli, Amber & Christopher, Caitlin & Alex). How did the secondary characters influence each woman's journey?
Do the characters seem real and believable? Can you relate to their predicaments? To what extent do they remind you of yourself or someone you know?
The story deals with redemption, recovery, renewal, and release. Can you marry these four themes with each woman/part of the story: Tall Poppy, Surviving Summer (Sara), Amber Leaves and Wynter's Way (Caitlin)?
Was the ending satisfying? If not, what would you have done differently as the author?
By the end of the novel who do you now see as the linchpin (or central) character who ties the story together?
Additional: If you've also read Simmering Season
Chapter one – the funeral. How did you feel when you realised whose funeral Maggie and Sara were attending?
Through Fiona's eyes, The Simmering Season offers glimpses of Amber's life post The Dandelion House stay. Having witnessed Amber's growth in House for all Seasons, are you satisfied with the author's continued portrayal of her character?