Dear Monique,
Wow, you're 18 today. That means you can do all the things your mum said you had to wait for, like dating (bet you didn't think she meant it when she said "18 and no earlier"), going out with your friends and finding your independence.
You've been a late bloomer – and your mum is right, you are too skinny – but after years of hating your hair and bemoaning your lack of curves, things are about to change. Well, the hair will – trust me, in a couple of years people will tell you how much they love your long, spiral-permed locks. The curves, on the other hand, won't happen overnight, but they will happen.
You've left school behind, worked as a ride operator at a theme park over summer, and now you're about to start university. A whole new world will open up for you. You're going to meet people from all sorts of backgrounds. You'll make two lifelong friends. New opportunities, dreams and possibilities will come your way. And you're going to ask: "Do I really want to be a journalist?". Yes, you will question the career you always thought you wanted. The choice you make will set your course for many years.
Monique, you're a perfectionist. You may as well admit it. So, I am going to break it to you gently: you will make mistakes. You can't please everyone. You will always try to do the right thing, but sometimes your youthful ego, innocence, inexperience, expectations and desire for peace and harmony (and stubbornness) will mean what you thought was right, really wasn't quite right. But you are a student of life and you do learn from mistakes, so you will be okay.
And while I'll stop short from calling you a control freak (even if you are a neat freak), your desire for harmony does mean you want to fix things so everyone is happy, even at your own expense. You've got to stop doing that! Trust me, you're going to take on everyone else's responsibilities until you are emotionally and physically exhausted. Don't laugh. It's true. And it will lead to even more changes. This is probably the hardest lesson you will learn in your life.
I'm not going to give you spoilers, just few tips to make things smoother.
Hold on to your dreams: Right now, you're bursting with ideas about travel, from living and working in London, to working on a summer camp in the US, and even living in Germany to make use of six years' German at school. You will travel, but not in the way you think. Okay, that was a spoiler, but the point is, do not give up on that dream because it will come true eventually.
Write: You were born to be a writer, just as your English teacher said. Trust yourself. Believe in yourself and tell Self Doubt to take a walk in someone else's park. Make friends with other writers. Don't waste precious time hiding your stories in drawers or waiting for the right time. Make that time.
Give yourself a break: You're so hard on yourself. Stop dancing to the tunes of "Not Pretty Enough" and "Don't Let Me Get Me" and start rocking to "F***ing Perfect" and "Try". On second thoughts, those songs aren't out yet, but listen out for them. The point is, stop trying to be perfect, to be everything for everyone. It'll be easier.
Love yourself: This follows on from the previous point, but one day, you will be asked: "What do you love about you?" And you will cry because you won't know how to answer. Let me make it easy for you. There's a lot to love about you, from your kindness, to your openness, from your silliness to your determination. That's the start. Ultimately, if you love yourself, you can love those around you even better.
Hold on to the little girl inside: When responsibilities overwhelm and challenges melt, don't lose sight of little Monique. It's okay to make up weird poems and songs in the car, to sing "Do Re Mi" at the top of your voice when you're cooking, to tell completely offbeat stories that make no sense but are fun, and to giggle uncontrollably at times. You don't have to be grown up all the time.
And lastly, quit worrying about what others think. Learn to be happy with yourself. Expect others to love you as you are.
Love,
Your 44-year-old self.
ABOUT THE AUTHOR:
A former newspaper editor, journalist, children's curriculum writer and magazine editor, Monique Mulligan is the author of The Point of Love and My Silly Mum, and is working on a full-length contemporary novel and a romance novella. She also reviews books on her blog, Write Note Reviews, and hosts a successful Stories on Stage programme.
Monique's website is www.moniquemulligan.com |  Twitter: @writenote1  | Facebook
Buy The Point of Love: Amazon   Serenity Press
[Tweet "What advice does @writenote1 give her 18 y.o self? #LetterToMyself Authors https://www.jennjmcleod.com/blog/a-letter-to-myself-author-list"]
Now, did you know…?
My fourth novel opens with a character writing a letter, which is what prompted this blog series. And not just any letter. It's a story –perhaps the most important he'll ever tell.
The Other Side of the Season

Everything has a reflection…
And there's another side to every story.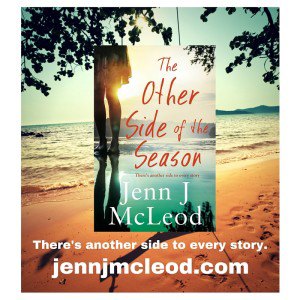 Life is simple on top of the mountain for David, Matthew and Tilly until the winter of 1979 when tragedy strikes, starting a chain reaction that will ruin lives for years to come. Those who can, escape the Greenhill banana plantation on the outskirts of Coffs Harbour. One stays—trapped for the next thirty years on the mountain and haunted by memories and lost dreams. That is until the arrival of a curious young woman, named Sidney, whose love of family shows everyone the truth can heal, what's wrong can be righted, the lost can be found, and…
. . . there's another side to every story.
Available from all bookshops and

 Amazon, Kobo, iTunes, or