Thank you to Book'd Out Reviews for that lovely quote. And to you, lovely readers…
Welcome to my corner of the country.
I'm Jenn J McLeod, best-selling author of The Seasons Collection of books — four standalone stories with Australian small town settings.
Make yourself at home and feel free to poke around my BOOK ROOM (to learn more about my novels), my BLOG ROOM (to meet my author friends), or to learn more about me pop into the PRESS ROOM.
I love connecting with readers. I'm never far away from my messages and often you will find me on those time wasting tools called Facebook and Twitter!
Book information and BUY links – www.jennjmcleod.com/book-room
Connect with me on Facebook www.facebook.com/jennjmcleod.books and Twitter @jennjmcleod or join in the discussion at Readers of Jenn J McLeod Facebook group
Hey, Campers!
Are you a camper or caravaner and here, on my website, because you are HERE in the same caravan park right now? Click here

Book News
My fourth book hit the shelves on May 1 and already the reviews have been fantastic. I hope to
see your thoughts (if you are so inclined) on Amazon, iTunes, Goodreads, or even your Facebook page. Or maybe you'll drop me a line.
What reviewers are saying…
"Emotive and multi-layered, this is a novel to curl up with" (but make sure the tissues are close at hand)." Read in full at  Write Note Reviews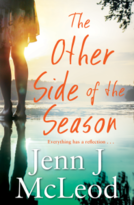 "A family tale full of secrets, regrets, redemption and a twist that even I didn't see coming." Read the full review at Duffy the Writer
"McLeod delivers a story packed with pathos, Aussie wit and a great sense of place. The character of Alice (in Season of Shadow and Light) was a hard act to follow, yet through the combination of setting, dual timelines and the blend of secrets held and lies told, McLeod has made The Other Side of the Season an irresistible tale." Read in full at Rowena Holloway.com
"Stunning writing, spellbinding storytelling, art in all its glory and the message that it's never too
late to make things right." Bookgirl, Beauty & Lace
"Jenn J McLeod handles her characters with a very real and genuine respect. A wonderful story of Australian people with a dash of Australian art. Recommended." Read in full at Kathryn's Inbox
"…complex with sensitively written contemporary issues regarding identity, family, truth and abuse of children in care gently woven into the multi layered narrative." Read in full at Reading, Writing & Riesling
"…in my humble opinion it is her best yet! I absolutely loved it. Emotional and heartbreaking." Brenda Telford. Read in full at Goodreads
The Other Side of the Season:  Amazon or iTunes, or Kobo or  
 Click on a book cover or see my Book Room for blurbs and more BUY links.
"Jenn J McLeod is an author for all seasons and all readers." Quote from: *Shelleyrae, Book'd Out Reviews